Top 10 Keyword Research Tool for an SEO Expert
Only those who are working in the SEO sector will be able to say that how the keyword research important for SEO. But the only thing I want to say is that if you can not do a proper keyword research you will have to do a lot of hard work to reach your desired goal, but if you can research your keywords properly, you can easily reach your desired goal easily.
In the later article, I will show how to properly keyword for those who are completely new to Keyword Research. This article will help only for those who have a minimum idea about Keyword Research and seeing the title of the article, you may already understand what is the main goal of this article. In this article, I will discuss the best 10 free keyword research tools.
1) Google Adwords Keyword Planner Tool:
Google AdWords has its own keyword planning tools which is the first choice of any SEO Expert. Because SEO guys know how keyword planner is important for the keyword research. We can't think about online marketing tool except for Google Adwords Keyword Planner for the keyword research. it and every Webmaster is the preferred tool.
Links to the Google AdWords Tool http://www.adwords.google.com
2) SEM Rush:
After the Google AdWords Tool, I will be suggesting SEM Rush. This tool can help you with the keyword suggestion in accordance with your keyword related search.
Link to SEM Rush http://www.semrush.com
3) Spyfu:

Spyfu is one of the webmaster's favorite tools. With this tool, you can search your keywords in two ways. It will show you high-rank keywords as well as all information related to the website.
Link to Spyfu http://www.spyfu.com/try-it-free.aspx
4) Woorank Website Review Tool:
Through the Woorank Website Review Tool, you will find all the necessary information including your competitors' keywords, backlinks etc.
Links to the Woorank Website Review toolbar woorank.com
5) Keyword Spy:
Keyword Spy is a tool of many things for webmasters.
Keyword Spy After searching keywords, you can also compare your selected keyword with the competitors as well as your results. Keyword Spy lets you compile data from Adwords, Yahoo, and Bing.
Link to Keyword Spy http://www.keywordspy.com/
6) Keyword Discovery: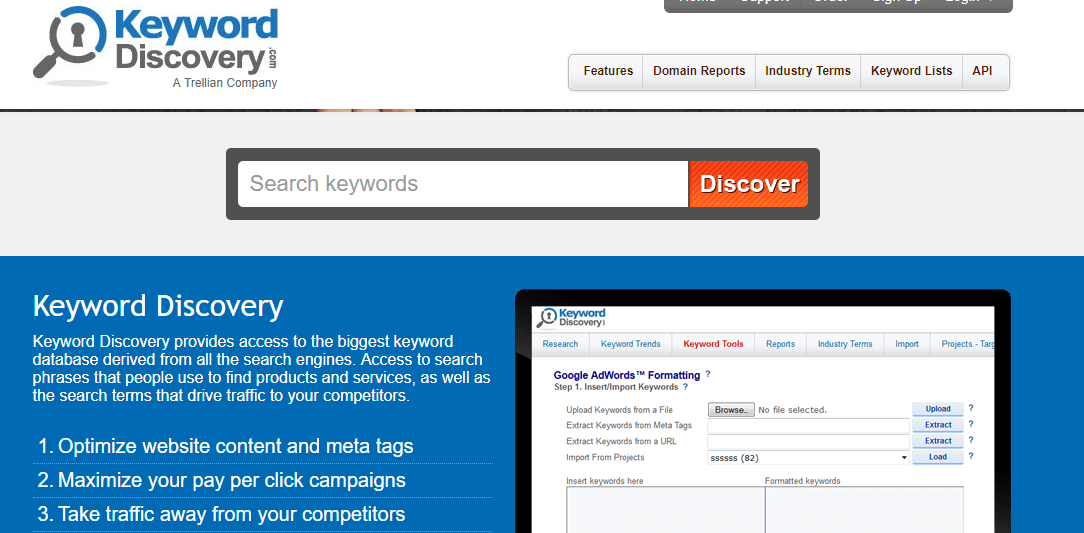 After searching your keyword in Keyword Discovery, This tool will suggest you 100 of related keywords. This tool will collect data from almost 100 search engines.
Link to Keyword Discovery http://www.keyworddiscovery.com/search.html
7) Google Trends:
Google Trends is one of the Handy tools for keyword research. With this tool, you will find details of your keyword as day, week and monthly. This is a very effective tool for the real-time keyword research.
Google Trends official link http://www.google.com/trends
8) WordStream Keyword Tool:
With the WordStream Keyword tool, you will be able to see keywords search volumes, frequency, and keywords of your search keywords.
Official Stream of WordStream Keyword Tool http://www.wordstream.com/keywords
9) SEO Quake:
SEO Quake is a powerful toolbox add-on for the browser like Mozilla Firefox, Google Chrome. This allows you to know all the information, including the age, page rank, backlink of your keyword competitors' site.
SEO Quake Download Link http://www.seoquake.com/
10) Ubersuggest:
This is a very helpful tool for the keyword research. This tool will suggest you with hundreds of related keyword.
11) Soovle:
Soovle is a beautiful, free and very fast site. This site will give you data on all the search engines.
Soovle's Link http://www.soovle.com/